EMBLEMATIC STADIUMS OF THE WORLD
Beyond the colors that each one may have, there are stadiums that are recognized by fans around the world.
Only the greatest have been able to play in them, now you can have us.
The historic ANFIELD
The soccer of the people
One of the oldest stadiums in the world.
Since 1884 located in the heart of industrial England.
Michael Robinson, who won a European Cup in a Liverpool shirt, knows what he is talking about when he says that Anfield "is not made of concrete but of soul". Among the elite clubs of continental soccer, there is no venue that so accurately represents the spirit of its fans.
LA BOMBONERA
A stadium that beats
Titles of all colors, the debut of Diego Maradona in the Argentine National Team, the wonders of Juan Román Riquelme or the goals of Martín Palermo, and even the presence of Lionel Messi, all this and more was witnessed at "La Bombonera" stadium, in its 80 years of history.
It was called by Maradona as "the Temple of World Soccer" while Pelé once said: "I played in all the stadiums in the world and I never felt an earthquake when a team took the field like what I experienced at La Bombonera".
The original BVB stadium
Signal Iduna Park - 'Yellow wall'
Signal Iduna Park, better known as the 'Yellow Wall'. It is so called because it is a grandstand similar to a vertical wall that holds almost 25,000 enthusiastic Borussia Dortmund fans. The atmosphere is very impressive. Some say that it is the best cheering section in Europe, and the truth is that it is extremely noisy.
A German goal makes its foundations rumble, generating, they say, fear in their opponents.
Only for the 25 fastets
Purchase all 3 Stadiums and Get another 3 FREE NFTs
The legendary OLD TRAFFORD FREE
The home of Manchester United for over 111 years
The mythical Theater of dreams, inaugurated on 1910, has witnessed great and historic soccer moments, such as World Cups, FA Cup and Champions League finals and has also witnessed all kinds of events, from boxing championships to concerts that will remain for history.
In 1973, England World Cup winner Bobby Charlton played his farewell match at Old Trafford, giving rise to a phrase still remembered by United fans: "Every boy in Manchester dreams of success in this theater. I have fulfilled my dreams here,".
Now you can fulfill yours by getting the home of "The Red Devils" for FREE.
2 NFT ABOUT THE REELS FREE
How it was made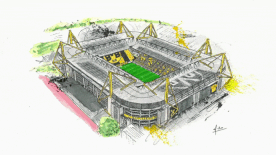 BELHAIMAR Art, is a Moroccan artist who is characterized by drawing the best stadiums in the world in unique illustrations. The work is 100% hand drawn using colored pencils and watercolor generating from each piece a special piece. His works have been published by big clubs such as Sevilla CF, Boca Juniors, Racing Club or Deportivo Cali.
ANY DOUBTS ON HOW TO BUY IT?
Here's how to do it in three easy steps
© Copyright 2021 StadioPlus. All rights reserved.